PASSATELLI
The "passadei" (passatelli in the Romagna dialect) are born with the azdora (the housewife in the dialect) who prepared them using a particular tool called the "iron for passatelli", which has disappeared over time and in its place we use the potato masher with large holes.


Passatelli are one of the most classic broth soups in Emilia-Romagna, a complete meal that cannot be missing from the weekly menu (my children go crazy for them!!!) while, once upon a time they were eaten on special occasions and during holidays , except at Christmas, because cappelletti are prepared in broth.

 

The origin of this specialty is to be found among the poor dishes of Romagna, it is the result of a recovery recipe, created so as not to have to throw away the leftover bread which is now too hard to be eaten as it is.

 

The original recipe from Romagna calls for the use of breadcrumbs, grated Grana Padano cheese, eggs and lemon zest to add flavour.

Today nutmeg is used instead of lemon peel, but some chefs do not eliminate it to preserve the freshness of the lemon, adding it to the nutmeg anyway.

The Modena version uses parmesan instead of grana padano, which is much tastier.

 

Passatelli were originally born in broth, which is traditionally made with meat, but those who prefer can opt for a vegetable or fish broth.

Nowadays, thanks to the creativity of some chefs, it is also possible to find them dry combined with rich fish sauce or speck and rocket.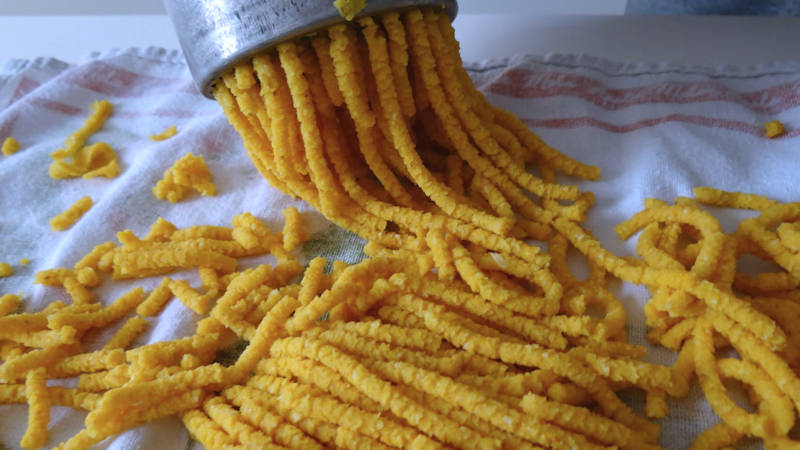 Ingredients for 4 people:
 

no. 3/4 chicken eggs (depending on the size)
150gr of grated Parmesan
150gr of fine breadcrumbs
half the grated rind of a lemon (untreated)
nutmeg to taste
Salt and Pepper To Taste.

 

Preparation:
 

On a pastry board or in a large bowl, put the breadcrumbs in a fountain and make a hole in the centre, add the eggs, the Parmesan cheese, some grated nutmeg, the lemon zest, salt and pepper to taste.

Let the dough rest for about 2/3 hours at room temperature, while waiting it should be kneaded again by hand every half hour to make it elastic and consistent, to prevent the passatelli from falling apart in the broth.


Boil the broth, create balls that are inserted into the potato masher, pressing hard you get rough and consistent filaments that are placed on the pastry board and then immerse them in the broth (only if it boils!!!) slowly so as not to break them , do not mix them right away, but only after 1-2 minutes.

As soon as the passatello rises to the surface, it is cooked.

 

Enjoy your meal!!!
 

P.S. when you prepare them…

think about it a little, so we will feel close. 😉