THE LEGEND OF THE TIBERIUS BRIDGE
 "Devil's Bridge" or "Pont de 'e Dievul", as the people of Rimini call the Tiberius Bridge, referring to the ancient legend

linked to the myth of his indestructibility.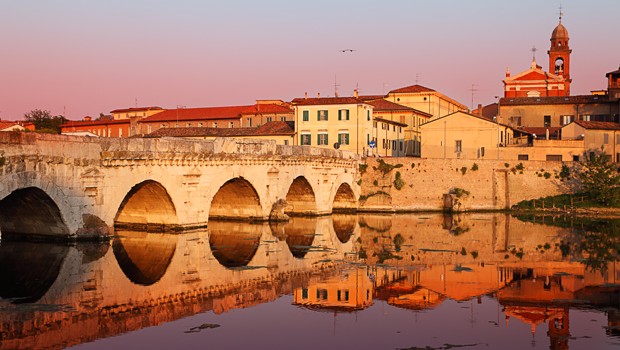 It is said that Tiberius took 7 years to finish the Ariminum bridge started by his father, but with great difficulty.

The Tiberius Bridge is one of the oldest monuments of the entire Riviera,

also known as the Devil's Bridge,

since during its construction, the works struggled to advance and each time a new part of the bridge was built this

collapsed or failed well.




Thus it was that Tiberius, after having invoked all the gods in vain, turned to the God of Darkness.

So he prayed to the devil to help him and made this covenant with him:

 the Devil would have built an indestructible bridge, in exchange he would have taken the first soul that would have crossed it.

The mighty and solid bridge was thus built in one night.

Tiberius chose that the first to pass was a dog, the devil was waiting for him on the opposite side,

but never arrived so enraged he tried to knock down the bridge with a butt where we can still find the sign today.

Crossing the bridge, take Corso d'Augusto where at the other end is the Arch of Triumph (d'Augusto), the oldest in

the Roman ones, symbol of the city of Rimini.