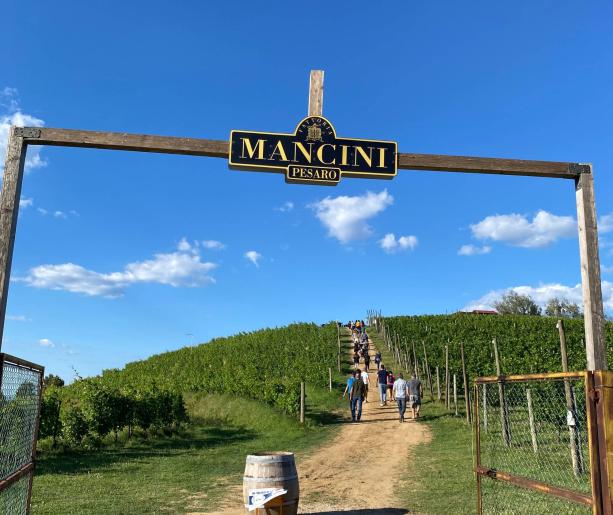 FATTORIA MANCINI
Fattoria Mancini is a winery of the homonymous family, founded in 1861.
It stands on about 20 hectares of vineyards located in the Natural Park of Monte San Bartolo, the extreme north of the Marche region.
The vineyards are close to the spectacular coast of Focara, a promontory overlooking the Adriatic Sea a few kilometers from Pesaro.
Here, the cold microclimate of this north-oriented strip of coast and the limestone sandstone soil make it possible to obtain very long-lived wines, with a great balance between structure, depth, freshness and elegance.
The main grape variety proposed by the company is Pinot Noir, introduced in the area at the beginning of the nineteenth century by the Napoleonic administration and preserved by the Mancini for five generations of winemakers.
After two centuries of evolution and adaptation this particular Pinot Noir is now considered a local grape variety.
In Fattoria Mancini are cultivated ,anche, Sangiovese, Ancellotta and Albanella white grape typical of Pesaro.
To eliminate the use of chemical herbicides all new vineyards have been designed for mechanical soil control, while fertilizations are carried out with local manure.
The Winery produces and vinifies only grapes of its own production.
Inside the cellar, comfortably seated at the table in a comfortable industrial style lounge, you can dine or have an aperitif, combining our wines with dishes prepared by the kitchen of the Vineria.
The raw materials are selected by local farms. (The winery with kitchen is open only in the winter season.)
During the summer season the Vigna di Rive is open to the public for aperitifs at sunset.
In a spectacular setting where you can taste all our wines paired with raw materials from local farms associated with Fattoria Mancini in business network.